Fire Department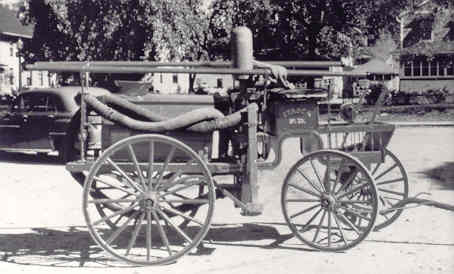 p179
Hand pumper of the same type owned by Bensenville Volunteer Fire Department.

L33-9
The Bensenville Volunteer Fire Department was organized in 1894 with 21 members.
Herman H. Korthauer, the first Fire Chief, is standing on the extreme left in the first row.
This picture was taken in front of the Franzen house on Main Street near the Franzen Bank.
The hand pumper was horse drawn; the first fireman to arrive with his team would hitch them to the wagon.



p257 Second Fire Department
By the early 1900's, the department was proudly wearing new uniforms.
In 1905, a Fire Bell was purchased and hung at Center Street and Railroad Avenue.
A larger photo and a list of names.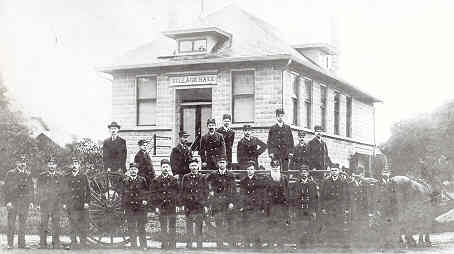 p23
Volunteer Fire Department in July of 1909
They are standing in front of the first Village Hall 2 South York Road.
A larger photo and a list of names.
1929 photo of some volunteers at a fundraiser


p146
Volunteer Fire Department, May 30, 1949,
on the site of the future Fire Hall which they built at 15 North York Road.
Large photo of 1949 Volunteers and their names.P188-3


p73-1
Large photo of 1954 Volunteers and their names.P73-1
1960 photo of Volunteers at Steak Fry